Pioneering "private 5G" network technology designed and deployed by the University of Strathclyde and its spin-off company, Neutral Wireless, was used to connect cameras for international broadcast coverage of the final departure of the late Queen Elizabeth II from Scotland.
In a world first for television production, Strathclyde worked with Glasgow-based outdoor broadcast specialists QTV, who provided the international broadcast feed.
Historic footage captured by the network and broadcast across the world, included footage of the coffin being carried by personnel from Queen's Color Squadron, 63 Squadron, Royal Air Force Regiment and the RAF's C-17 Globemaster taking off and carrying Sa late Majesty at RAF Northolt in London.
Operation Unicorn
'Operation Unicorn' – the code name for Her Majesty's death management plan should she die in Scotland – saw the Queen's coffin flown from Edinburgh Airport to RAF Northolt. This created the need for a high-definition, broadcast-ready wireless solution that avoids the use of cables on the airport runway, while mitigating interference and ensuring quality of service.
Traditionally, broadcast cameras connect to the outside broadcast only using radio (RF) signals that rely on proprietary equipment. 5G potentially allows a range of cameras and other devices to be used, in a wider range of locations, opening up new creative and operational advantages for broadcasters.
Partially funded by the Scottish Government through the Scotland 5G Center Wave 1 projects and in partnership with the IBC Accelerator Media Innovation program which included some of the world's top broadcasters and tech companies, Neutral's 5G Stand Alone (SA) network pop-up Wireless was deployed for QTV within 24 hours of the spectrum license being awarded by Ofcom. The use of such a private 5G SA in an airport is also considered a first.
historic occasion
Scottish Minister for Government Affairs Ivan McKee said: "The Scottish Government's £1.9 million investment in the University of Strathclyde's 5G initiatives through the Scotland 5G Center has enabled this historic opportunity. to be broadcast to millions of people around the world.
"It shows how new technologies can help transform Scotland's economy and society, improving our global competitiveness, facilitating business growth and driving innovation."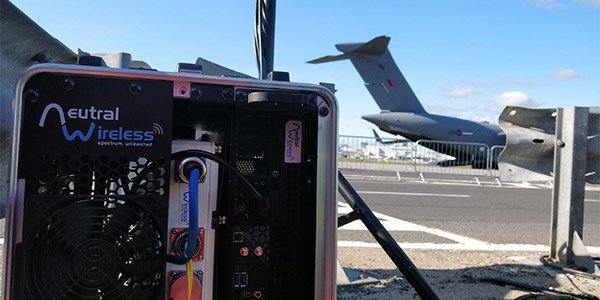 The deployed technology was tested and developed through a series of groundbreaking proof-of-concept trials in 2022 as part of IBC's Accelerator Media Innovation program. This IBC Accelerator project has delivered a series of groundbreaking experimental broadcast use cases in 2021 and 2022, including several world firsts in remote parts of the world including Ireland, Kenya, New Zealand, and live on the IBC show from the Highland Games in Pitlochry, Scotland on September 10, showcasing pioneering rural test-bed work with key partner Scotland 5G Center over the past three years.
Professor Bob Stewart, from Strathclyde, who leads the university's Software Defined Radio team, said: 'The use of a dedicated private 5G network operating in a shared spectrum is considered a first for information over-the-air television, broadcast using shared-access radio spectrum. .
"The network ran live for nine hours with no reported interference due to our network and we were humbled and honored to be able to play a role at such an important time."
Principal and Vice-Chancellor of Strathclyde, Professor Sir Jim McDonald, said:
I am proud that the team was able to put its expertise at the service of documenting such a sad and solemn event in our history. It is deeply impressive that our colleagues applied Strathclyde's 'can do' approach to deliver such a professional result that meant so much to domestic and international viewers.
QTV worked closely with national broadcasters for "Operation Unicorn", which provided a global feed to TV channels around the world, including content captured on the private 5G network.
Gareth Gordon, CTO at QTV, said: "From the Royal Regiment of Scotland marching band to the RAF C-17 Globemaster taking off and carrying Her Majesty The Queen of Scots for the last time, these are live footage to cut the blast broadcast globally from the airport tarmac. The video link over the 5G network wasn't there as a backup – it was a live stream to the world.
Project Champion
Established and funded with £14.5 million by the Scottish Government, the S5GC was a champion of the IBC project, working alongside key local academic and industry partners, as well as international broadcast and technology partners.
Julie Snell, Chair of the Scotland 5G Center Board, said: "It's great to see the technology and know-how designed and tested in Scotland on Scotland's 5G Wave 1 rural testbed projects gain prominence. international just after the success of the IBC in the middle of nowhere protests in four countries.
Cameron Speirs, Commercial Director of Neutral Wireless, said: "This is truly innovative technology, pioneering in Scotland, and it's thanks to IBC that we've had proven use cases and been able to dialogue with all the expertise in the industry to make it a reality. "